Блог
Разговорный английский для детей13.10.2022
Набор в детскую группу разговорного английского с нуля от 5-ти до 6-ти лет Понедельник и Среда с 15-00 до 16-00 Понедельник и пятница с 18-30 до 19-30 Среда и пятница с 16-00 до 17-00 Стоимость 7000 рублей Группа до 5-ти детей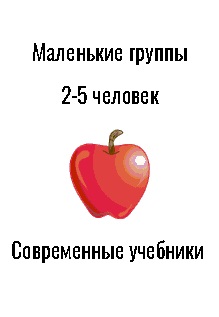 Новости сайта
Набор в группы21.03.2021
Открыт набор в группы разговорного английского
Детские группы в выходные04.10.2019
Набор в детские группы выходного дня. Стоимость от 4 000 руб.
Бизнес английский летом24.07.2019
Бизнес английский в группе — 14 500 руб./8 занятий/90 минут
Вопрос - ответ
Быкова Татьяна
Добрый день! У вас есть занятия по английскому интенсив в утреннее время?
Борисов илья
Здравствуйте. Интересуют занятия по английскому для дочки 14 лет, 1 раз в неделю - в один из дней - понедельник, суббота - после трех часов либо в воскресенье (после 11 часов), желательно в районе метро аэропорт, войковская сокол, водн стадион
Мария Владимировна
Здравствуйте! Интересует возможность и стоимость занятий с 2 взрослыми в офисе на Рязанском проспекте. Один уровня elementary, общий курс, другой - intermediate,бизнес-английский. Занятия в 7-8 или 8-9 утра понедельник и ещё один плавающий день в будни, одно за другим. Оплата от юр. лица.
Юрий Скудатин
Интересует обучение техническому английскому языку на предприятии. Группа два раза а неделю. Каковы условия стоимость?
page 2
8(495)765-25-08; 8(985)915-26-00
- запись по телефонам:
NEWS FROM AROUND THE WORLD
Celebrating the Chinese New Year: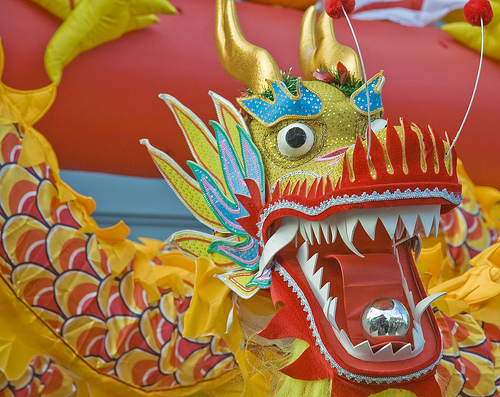 Chinese New Year, or Chinese Spring Festival, ["holds the most significant position among all Chinese festivals and holidays."]It's also called the Chinese Lunar New Year, because its date is determined by the Chinese lunar calendar, which falls sometime from late January to late February and varies from year to year. The celebration lasts 15 days. There are many exciting things happening during this New Year. If you want to participate in the celebrations, there are many things you can do to join the festivities and to pay homage to Chinese traditions; the Chinese people have many ways to celebrate this special time of the year, such as putting money in red envelopes to give to children; writing Chinese lucky symbol Fu and putting it on the door.
Steps
The first step is to Research Chinese New Year. If you're already familiar with the Chinese New Year, take a little time to learn some more about it. It's a very significant holiday in Chinese culture and the festivities extend over a period of two weeks. The Chinese New Year is accompanied by a belief in good fortune, and there are many decorations around to herald the new year.
Chinese celebrators head to temples to pray for good luck during the New Year celebration period. There they burn incense sticks and can also have their fortunes told. If you are not of Chinese descent but would like to participate, attend a Chinese temple and take a tube of fortune sticks which can usually be found at the entrance to the temple. Ask a question, shake the tube and the number that falls out can be interpreted by one of the fortune tellers at the temple.
Clean your home in time for New Year. This tradition is founded in the belief that cleaning the house at this time of year will "sweep away the bad luck" that has accumulated inside over the past year. Cleaning also makes the house ready for the good luck to start entering again.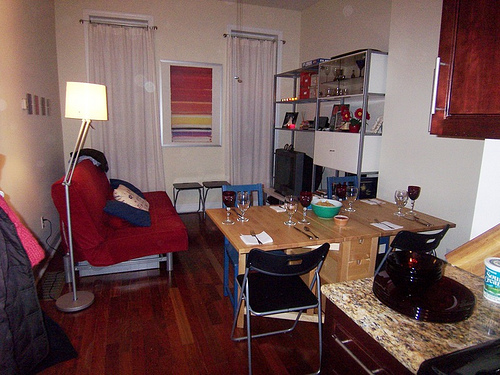 Put away dustpans and so brooms that the good luck won't be swept away after cleaning.
Keeping fresh and hygienic is also an important part of celebrating; even a new haircut will do.
Be aware! Do not clean your home during the New Year, such as sweeping or wiping the windows. To do so is to "sweep away" the good luck you've just received for the New Year. Over the following 13 to 15 days, you're relieved of cleaning duties. It may be a little dirtier than usual but it is an important part of observing the tradition.
Decorate your home. The color that is most recommended is red. Red is the color or symbol of good luckin Chinese culture. The number "8" also symbolizes good luck and wealth, as in Chinese the word for eight rhymes with fortune or wealth.
Take care not to overdo the decorations. Display a few good ones to bring life and fortune from their brightness and colorful nature.
Place flowers through the house, such as lotuses. Lotus flowers symbolize rebirth and new growth.
Place mandarins in bowls throughout the house. Mandarins with their leaves still intact are the fruits of happiness for the New Year. Keep their numbers even though, as uneven numbers bring unhappiness. When offering mandarins to others, always offer them in pairs.
Set out a tray of candies with eight different types of candies arranged along it. The traditional candies are those made from lotus seeds, longan, peanuts, coconut, red melon seed, candied melon, etc.
Offer a sacrifice to the Kitchen Go Have a traditional dinner on New Year's Eve. This is one of the most important parts of the holiday and the food eaten at this time of year has traditional meanings related to the Chinese New Year. Some Chinese choose not to eat meat on the first day of Chinese New Year because each new year carries the name of an animal.The remaining days carry no such restrictions. Traditional dishes include fish, jai, chicken, law pak ko, lin guo (sticky rice cake), noodles and desserts. Dumplings play a special role in New Year food because of their shape, a shape which resembles the ancient Chinese gold or silver ingots. Some of the food meanings included. While this deity may have a funny name, it is like all gods and should be worshiped. This sacrifice could include foods such as fruits, for example. Good behavior should be used so that he will make a "good report when he goes back to Heaven." Many families have a large poster of him in their kitchen.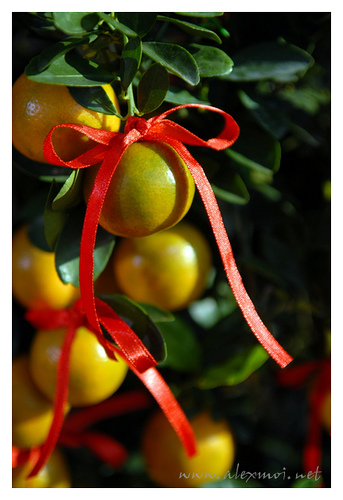 Jiu, a traditional hard liquor, and daikon , the Chinese radish, carry the meaning of longevity.
Red chilies mean good luck.
Rice ensures harmony.
Cook your own Chinese cuisine, if you'd like to do more than simply order at the local Chinese restaurant, try these delicious recipes suitable for Chinese New Year: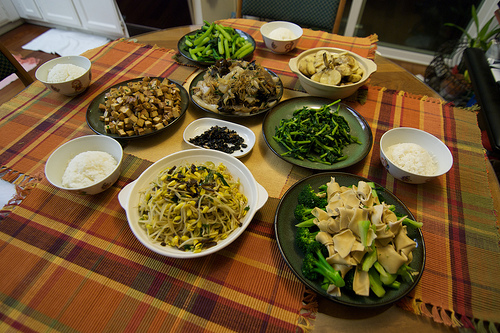 Chinese dumplings:
Pot stickers
Chinese New Year cake nian gao (sticky rice cake)
Chinese noodles in a peanut sauce
Chinese bean paste bun
Shrimp with Chinese lobster sauce
Dress for the occasion. If you have traditional Chinese clothing, this is the perfect time to wear it. Outfits can be purchased in Chinatown, and silk Chinese clothing is very beautiful. Prefer the color red for all your clothing during this time. Associated with joy, happiness, good luck, wealth and good fortune, red clothes will ensure that you're fully participating in the spirit of the celebrations. Gold is another suitable color; try combining the two for a very elegant look.
Avoid wearing too much black during the celebration period. Black symbolizes bad luck and even death. This is a time of good fortune and life!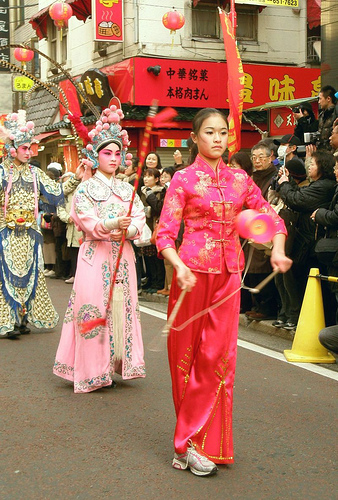 Interact with others in a positive manner. Chinese New Year is a time of happiness and good fortune and it's important to spread the goodwill. Avoid having any quarrels, fights, or negative attitudes during the New Year. These will bring you bad luck.
When greeting other people during the New Year period, use greetings such as: Gung hay Fat Choy"/ "Gong Xi Fa Chai" – these mean "Happy New Year" in Mandarin Chinese.
"Kung hei fat choy" means: "We hope that you will be wealthy".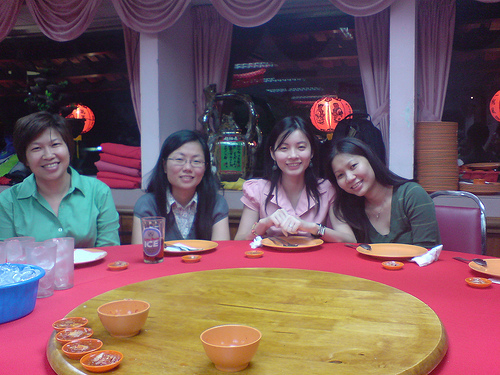 Visit your relatives and friends. This is the most important part of the New Year and is a time of connecting and sharing the celebrations together.
Bring Angpau, the red envelopes, with you, to pass to children. Usually, the red envelopes are filled with money or treats. The red color is meant to scare away any evil spirits. These envelopes are usually given to the unmarried from the married. And for the sake of continued it's a good idea (or lesson) to encourage children to save the money that they're given in the envelope.
Set off firecrackers. The firecrackers used in China and Hong Kong are loud, banging fireworks that are mostly lit on the ground. The loud noises are thought to scare the bad spirits away, to prevent them from bringing bad luck. Many Chinese choose to decorate their homes with plastic firecrackers too, to ward off bad luck and to symbolize the deafening noise made when the real firecrackers are set off.
Visit a parade. Parades are full of excitement, including firecrackers, activities, and dragon dancers. There are people who are disguised as dragons and lions; the dragon is revered in China rather than being viewed as a monster. Indeed, it could be said that the dragon almost symbolizes China itself. A five clawed dragon used to be worn by emperors on their clothes and they also wore yellow and other people were forbidden from doing so. Nowadays you can wear yellow and dragons too, as it's not only for royalty. The lions and dragons also scare off the bad spirits like the firecrackers, and the dragon dance and lion dance are an important part of the Chinese New Year. They're decorated beautifully and are a sight worth seeing.
Look online or in your local newspaper for information about local Chinese New Year parades in your area. Be sure to take your camera and to wear adequate clothes if it's cold outside.
The Lantern Festival is held on the last day. People carry lanterns designed as insects such as dragonflies or animals with them on the streets. Sweet rice cakes and other sweets are eaten on this day and people put candles around their house to guide the spirits home.
Recipe: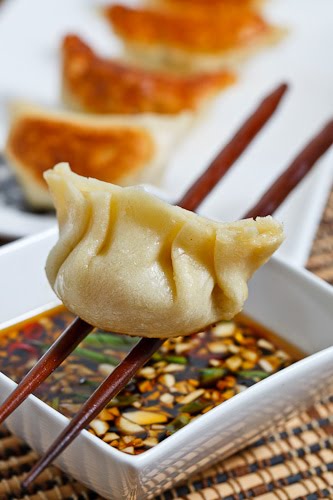 Chinese dumplings (Jiaozi) are very popular during the Chinese New Year season Ingredients:
Jiaozi dough:
3 cups all-purpose flour
up to 1 1/4 cups cold water
1/4 teaspoon salt
Filling:
1 cup ground pork or beef
1 TB soy sauce
1 teaspoon salt
1 TB Chinese rice wine or dry sherry
1/4 teaspoon freshly ground white pepper, or to taste
3 TB sesame oil
1/2 green onion, finely minced
1 1/2 cups finely shredded Napa cabbage
4 tablespoons shredded bamboo shoots
2 slices fresh ginger, finely minced
1 clove garlic, peeled and finely minced
Preparation: Stir the salt into the flour. Slowly stir in the cold water, adding as much as is necessary to form a smooth dough. Don't add more water than is ncessary. Knead the dough into a smooth ball. Cover the dough and let it rest for at least 30 minutes.

While the dough is resting, prepare the filling ingredients. Add the soy sauce, salt, rice wine and white pepper to the meat, stirring in only one direction. Add the remaining ingredients, stirring in the same direction, and mix well.

To make the dumpling dough: knead the dough until it forms a smooth ball. Divide the dough into 60 pieces. Roll each piece out into a circle about 3-inches in diameter.

Place a small portion (about 1 level tablespoon) of the filling into the middle of each wrapper. Wet the edges of the dumpling with water. Fold the dough over the filling into a half moon shape and pinch the edges to seal. Continue with the remainder of the dumplings.

To cook, bring a large pot of water to a boil. Add half the dumplings, giving them a gentle stir so they don't stick together. Bring the water to a boil, and add 1/2 cup of cold water. Cover and repeat. When the dumplings come to a boil for a third time, they are ready. Drain and remove. If desired, they can be pan-fried at this point.
Posted by Aliona
8(495)765-25-08; 8(985)915-26-00
- запись по телефонам: